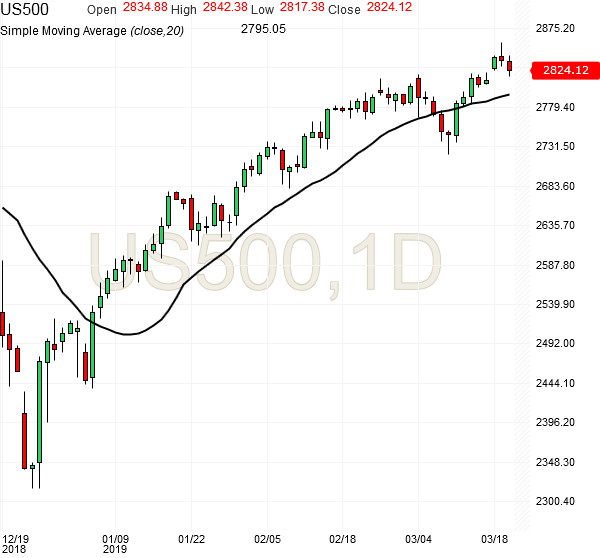 The S&P500 Emini Futures are currently at 2825 after making a high of 2858 yesterday March 19, 2019. And they have started selling off on profit-taking pressures since yesterday and the futures have already corrected almost 40 points from their high of yesterday.
This correction was to be expected in a way because the S&P500 Futures have broken out of a very strong resistance level at 2820-2830 that has been prevailing for last 6 months, since October 2018. The breakout from a long-standing resistance is not easy and the futures have done that this week. Now they are trying to come out of that and test one more time whether the support is actually holding at the 2820 level.
So we should not be excessively worried about the correction that is happening today because this is natural to test the resistance levels that we are crossing and to check whether that resistance level has become a support level, which is what it should become.
If the S&P500 Futures can bounce back from 2820 levels or even 2810 levels intraday and come back up, that will be a positive sign. The Futures should not ideally break 2800 at all as part of this testing process because that will start breaking new support levels. And that is not healthy. Therefore as long as the futures are holding above 2800 as part of this testing process, more likely around 2820, that can be considered healthy and we should wait for this testing process to get over, and we will know that once the futures start trading above 2830 again.
So once the futures start trading about above 2830, then we can think that this is a successful testing and once the futures are again above 2840, then we can add fresh long positions for targets of 2880 and 2900. So at this point we should wait and watch the futures and let the testing process complete.
[Bonus Trades] Aggressive traders can Buy at 2825 for Target 2860 and Stop-loss 2800. That will give you 35 points gain with 25 points of risk. And once the futures cross 2850, that opens up new targets on the upside. So you can also take a trade which is to Buy at 2825 for Target of 2880, and Stop-loss of 2800. So in every case, any trader who wants to buy at current levels must have 2800 as the absolute stop-loss, and the upside targets are from 2860 to 2880, and even 2900 is possible in the month of April. Thanks.
P.S. The US Fed will be sharing/publishing their views today, and it is important and material. US Fed Chairman, Jerome Powell, is now clearly saying that he will be data dependent and he is not going to increase interest rates in a pre-determined manner. It is possible that there maybe no rate hikes That is very positive for the market.