Hello Folks, the S&P500 futures have closed at 3134.50
Today's Range: 3132.75 – 3149.25
The futures moved up rapidly on Friday, Dec 6th, from 3120 to 3150 and the quick move made it difficult to create a suitable trade and share with the trading group. By the time the futures were at 3130, the trade was not suitable anymore because stop loss would still have to be 3100.
There is a strong resistance at 3140-3150 level, and we have to see how the futures navigate it. Above 3150, the next target is 3180, and we will try to capture a part of that upmove if it happens.
The candlestick pattern of last week made a bullish recovery, but it leaves a lot of volatility for following week, which is this week. The futures can easily lose all the ground till 3070 (the low point of last week) if they start trading below 3140. The entire path between 3070 to 3150 is open for rapid moves this week. While the futures are currently at 3140, they can easily do down to 3100-3120, or go up to 3180 from current level. So 30-50 point upmove or 30 point downmove is possible, which makes it difficult to create a reliable trade with tight stop loss. Traders can buy between 3100-3120 for Target 3150, with 10-20 point stop loss. Last week was volatile, and this week may be similar!
In addition, the momentum on the daily chart is reducing, which will make it difficult for the futures to move higher. However, as long as the futures are above 3100, the next upside target is 3180, so we must take long positions at suitable levels. Therefore, we will wait and watch today. Thanks.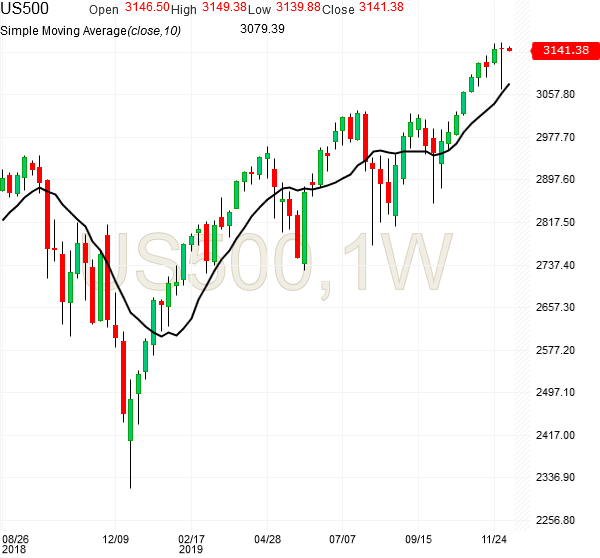 The S&P500 index trend is still up, but the futures have moved 250 points above their 50 week simple moving average, and based on the historical charts, there is a stalling effect once the futures move very far away from their 50 week simple moving average. So before any major sharp upmove above 3200, we may see some consolidation around 3100 or correction towards 3000.