Hello Folks, the S&P500 futures are currently at 3350.
The futures are in uptrend currently and 3400 (new high) is the target.
Major trend line resistance coming at around 3500, which is much higher.
However, 3400 will also create selling pressure.
Please see the attached the daily chart analysis of S&P500 futures.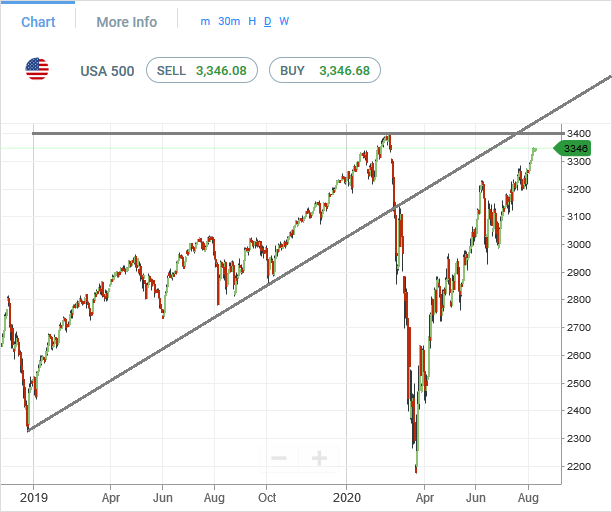 The S&P500 futures made an upmove/breakout above 3280 till 3330 exactly as we expected, giving 50 points gain.
Previous Optional Trade hit target at 3330 and gave 50 points gain.
"Buy at 3280 for Target 3330 with Stop loss 3250"
Here is a new Optional Trade.
"Buy at 3350 for Target 3380 with Stop loss 3320"
This trade can also be done with Emini Micros or CFDs. Thanks.
Traders should take profits regularly, and stay long above 3300 for Target 3400 and 3500.
Absolute stop loss for all long trades is 3200, which is 150 points below.In case of major correction, the futures may fall back to their 200 DMA near 3030. We can buy on corrections, and stay long above 3200 for target 3400.
The immediate long trade is from 3330 to 3400. There is a chance that the futures may correct back to 3300 on profit taking and they make a fresh attempt to 3400. The volatility is still high to do a General Trade with full capital. In current conditions, we can only do trades with a small part of our capital and aim for 30-50 points on those trades. Thanks.