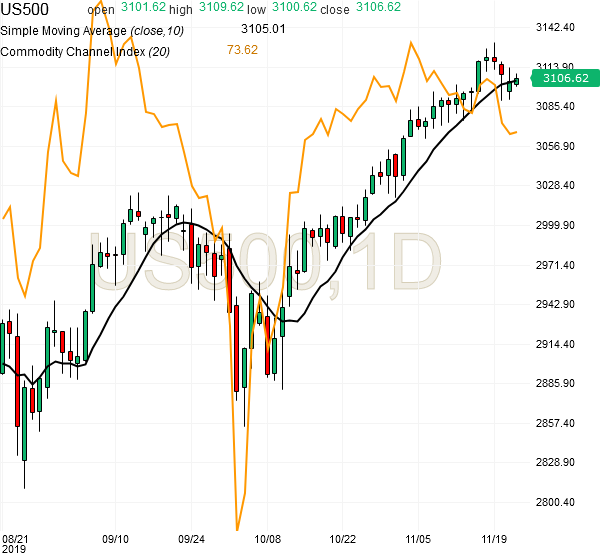 The S&P500 Emini Futures are currently at 3107, and they are now just above the 10 day moving avg, which is very important support line for short term movements, especially after a rally like we have got in Oct-Nov 2019.  The momentum indicator (CCI) is moving downwards, which is negative for uptrend.
Yesterday's high was 3114, so the futures will gain strength above 3114. Traders should start any fresh long positions only above 3115, because the current zone is not giving any clear signal for the long side trades. If anything, the downside signals are accumulating.
The futures must hold above 3080 for the long trade to sustain, with closing above 3100 being a valuable safety net, because 20-25 points get cut in 10 minutes once the futures start trading below 3100. So traders must be very alert and cautious at current levels. Ideally, the position size must be small/reduced, and the same is being done all large traders and commercial traders.
The S&P500 trend is clearly up and we must only think of long trades. Our S&P500 Emini Futures Trading Strategy is to stay long above 3080 for target 3120 and 3130. We are seeing a major resistance at 3140, so a fresh long trade will be considered above 3150 level, for target 3200.