Hello Folks, the S&P500 futures are at 3228.50
Today's Range (so far): 3217.50 – 3244.25
For the last 10 days, we have been seeing weakness in momentum indicators, while price was moving up, and that was not a reliable setup at all. Since 27th Dec 2019, the futures hit a high of 3553 and started correcting, in line with the weakness in short term daily momentum.
In the daily chart below, we have we can see that the 20 day moving average has not been tested in a while now, so there probably at testing of that support level coming up in the next 1-2 weeks. If it holds, we will see next leg of the rally, and if it fails, where we may see correction till 3100 level. We have to be cautious below the 20 day moving average.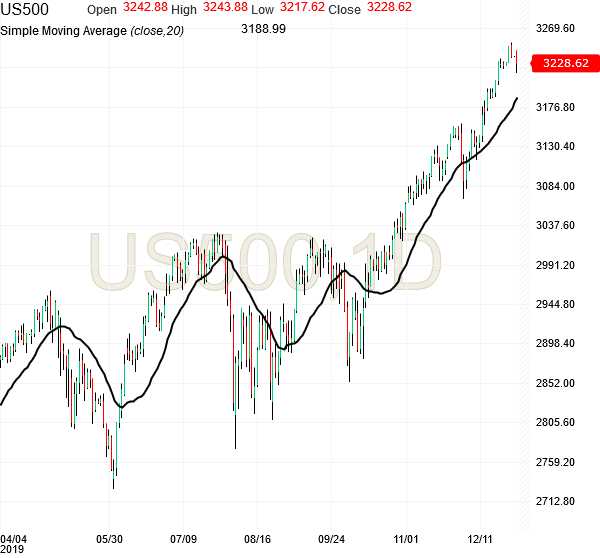 But today is 30th Dec 2019, and we have far more important things at hand!! Unless we have a 50-100 points move tomorrow on 31st Dec 2019, the following yearly chart of S&P500 index will look the same at the end of year 2019. This is a very valuable chart, because it gets drawn only once per year, at the year end! So please save this post.
S&P500 Futures Technical Analysis – on Yearly chart:
The above chart has trend line analysis of the S&P500 index yearly chart, and we see a strong band of support between 2600-2800, which should provide support during any major sell off, if it happens.
The two white arrows indicate the two important support levels for year 2020, and they are: 3000 and 2700.

3000 is the anchor for the current upmove, and please remember that 3020 acted as a major resistance for several months, and now that is a major support. Regular market weakness will not be able to break 3000 level.
2700 is the dire straits, deep low for the S&P500 for year 2020. 2740 is a major support level. It may not come at all. If it comes, it must be used for buying with a reasonable stop loss.

The battleground in year 2020 will be between 2900-3000 level, because if that zone is defended successfully, then new highs can come high reliability and without a sell off at the new higher levels.
Below 3000, the futures will search for support and we will see big swings and higher volatility, like what we saw in May 2019 around 2700 level, and Aug 2019 around 2800 level.
3000 is the most important level for 2020. It is likely to get tested at least once, if not a couple of times. Above 3000, the S&P500 is in strong uptrend.

3370 is upside Target#1 for 2020. It will come for sure, maybe within Q1,2020.
3480 is upside Target#2 for 2020. It will come for sure. Whether it comes without a correction to 3000, or after a correction to 3000, is not clear yet.
3600 is upside Target#3 for 2020. The path for this target is not clear yet. We will deal with it in real time.
Our S&P500 Emini Futures Trading Strategy for year 2020 is to constantly look for long trades – those are the winning trades, and the market has rewarded our view again and again! Our default trading strategy will be stay long above 3000 level, with a 20 point stop loss at 2980. This trade worked multiple times in year 2019 as well.
Overall, we can expect a green year in 2020, given the quality of the yearly setup. Because 2020 is also US Presidential Election Year, lots of noise will be there, and it can create volatility during the year. We should use such corrections to buy.
Please remember that America is much much bigger than any individual or group of individuals. The enterprising and hard working nature of American people (and also the bright people worldwide, because about 50 percent of S&P500 sales and income are now coming from outside the USA) is at the core of the S&P500 index rally over last 60 years. The growth of S&P500 is not dependent on anyone, and its growth can not be stopped, even if it's blocked with hurdles briefly. It is important to remember this point even more during a market downturn, than during a nice green rally. I have learned over the last 15 years that we get best trading results by just focusing on the price action of S&P500 futures (daily and weekly charts), rather than business news media -because they have no commitment to get you profits, but I have. Hence this post!
Even if you are not a member/subscriber of our Trading Group, you can still benefit from the regular posts with S&P500 futures analysis, market direction, and bonus trades, which are published often, to help everyone visiting our website. Thanks.
Wishing you Happy New Year 2020!