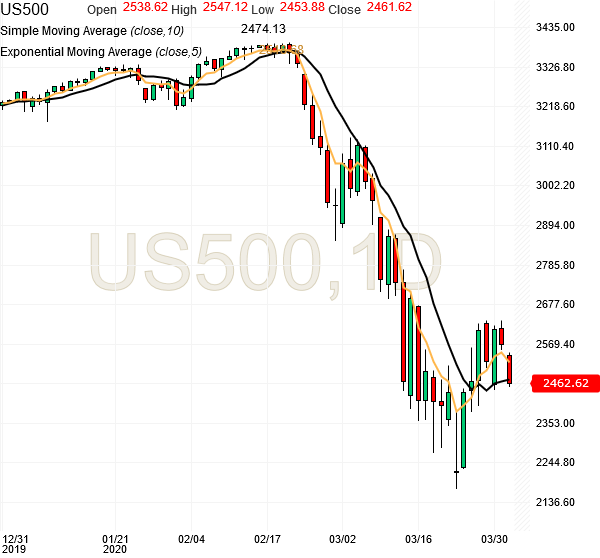 Hi, the S&P500 futures are at 2459.00, down 110 points or -4.30%
Today's Range: 2453.50 – 2563.00
The futures were at 2611 when I mailed you yesterday,
and mentioned this in the market levels.
"- Safety will start above 2650 (we are almost there!)"
But the futures could not even go near 2650!
They reached 2635 and started facing selling pressure, and they are now below 2460, down 170 points since yesterday's high. Its not hard for the futures to move up/down 30 points in the current market conditions with high volatility, but they could not even approach 2650 yesterday. It means the market is not yet ready for become safe and stable, which means more correction, till we get better conditions. In regular market conditions, the S&P500 futures can stay flat for a couple of days, but that's not possible now. If the market can't go up, it has go do down without any waiting.
Market Levels for this week (Revised 01 April 2020):
– Support at 2430
– Safety will start above 2630
– Reliable trades with low vola0ility will come above 2880
(Revised) Optional Trade for Traders with 10+ contracts,
to be done with 1-2 contracts only.
"Buy 1-2 contracts at 2640 for Target 2800 with Stop loss 2600"
The above Optional Trade is only for the traders mentioned above, because it has 40 point stop loss, with a 50-50 chance of getting hit, even though at the futures will become safer above 2640, because the news flow is mostly negative these days and 30-50 points cut can happen rapidly from any level.
Given the sharp cut in March, we may see some recovery in April. We may see a test of 2800 level, but the downside levels of 2200 can also be tested. That's a large range, which makes it very difficult to trade futures. Therefore, we will have to wait for safer levels to come. Thanks.