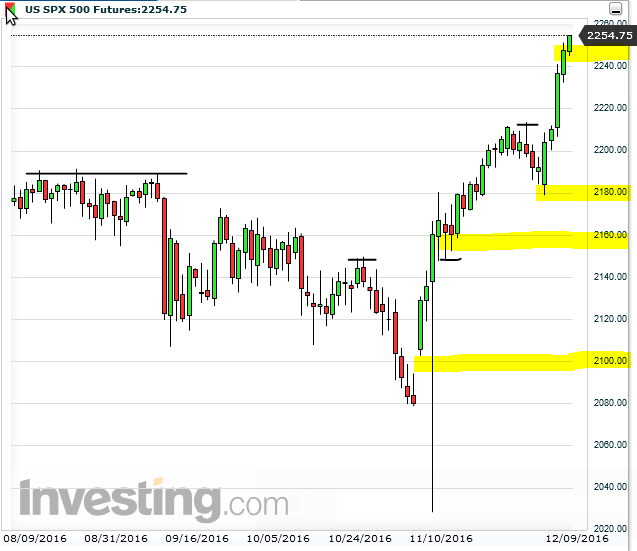 S&P500 futures moved up vertically after crossing the resistance at 2213. This threshold level was shared with our subscribers in advance, so that some traders could automatically initiate long positions above 2213 with Stop at 2200 and targets of 2234-2247. So this trading strategy has given about 30 points gain this week.
The key support levels are marked in the attached chart in yellow. They are 2100, 2160, 2180. Above 2200, we are in uncharted territory and
S&P500 futures have hit 2260 today afternoon, which was our technical target for the current upmove from 2180, and this was shared with our subscribers when the futures were at 2230 – to give them an idea of the magnitude of the upmove, so that they could plan their trades and gain maximum number of points from the good rally at hand because such rallies come only 2-3 times in a year.
We did not wait for 2260 to book profit on our long trade. We exited most of our long positions at a pre-defined target of 2247, which was sure to come when the S&P500 index goes to test 2250. Some of our larger traders who trade with 5-10 contracts were able to capture the 50 point gain from 2200 to 2250 with 2-3 contracts, while using the other contracts for trades of 10-20 points, which is the prudent way to do it, because we could not have predicted 5 green days non-stop. Now, we have to let the US Fed give their updates on interest rate policy and take any new trades after Dec 12-13. Thanks.