Hello Folks, the S&P500 futures are at 3244.00
Today's Range (so far): 3235.75 – 3268.50
The futures are down 50 points from Friday's closing. There was a gap down opening of 25 points below Friday's closing of 3293, and the futures have gone down further on liquidation of long positions with stop losses. As we mentioned earlier, the futures can correct rapidly below 3300, and that has played out since Friday evening. That's why 3300-3290 were last Stop loss on our General Trades.
In the very short term, the hourly charts are now showing positive momentum, which can support price from falling further. But this quick 100 point correction from 3337 to 3235 has broken many support levels, and rework is needed at each key level like 3250, 3280, 3300.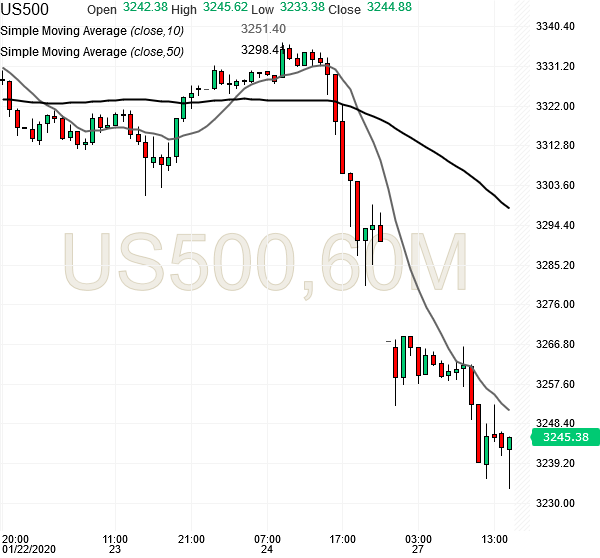 Most importantly, the strong uptrend that started on 10th Oct 2019 is at risk currently, unless the futures move above 3280 within this week.
The key support levels on the downside are at 3200 and 3180, but the futures may not go there directly, and there maybe upward spikes. The S&P500 futures will be strong above 3260, and fresh selling pressure will come below 3180. Trades with 10-20 point Stop loss will not work in current conditions of high volatility. Position size needs to be smaller, and Stop loss needs to be wider.
This is an unforeseen event based correction, and its difficult to predict how much impact it will have. We have to let the big market players decide the market direction in the next 2-3 days, while we observe carefully. We should avoid new trades till we get some clarity. Thanks.