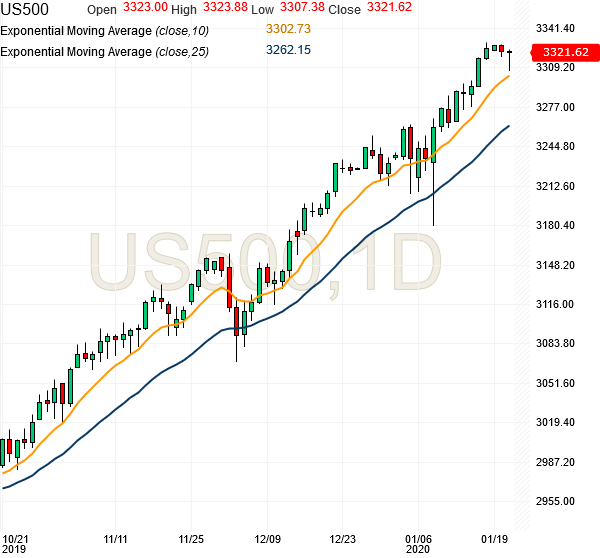 Hello Folks, the S&P500 futures are at 3321.50
Today's Range (so far): 3307.50 – 3325.50
S&P500 Futures Technical Analysis: The futures are facing profit taking after moving to new life time highs of 3325-3330, which is very normal. Last week was positive and this week is looking okay as of now. We could see retest of 3300-3290 this week on the downside, and we could see 3340-3350 on the upside. The futures are trying to move up currently. Today's close will be an important indication.
Our SP500 Emini Futures Trading Strategy continues to be the same. We want to buy on corrections and sell with 20-30 points gain. We may get a new General Trade today, based on how the futures handle 3310-3320 level. Please stay alert. Thanks.
[Bonus Trade]
"Buy at 3313 for Target 3333 with Stop loss 3293."
This trade may trigger today or tomorrow morning.
Note on Position Size: Please note that we can trade max 1 Emini Contract (50 futures) for every $10K trading capital. So max 2 Emini Contracts (100 futures) for $20K capital, and max 10 Emini Contracts (500 futures) for $100K capital. Position size management is very critical for success in futures trading, because it enables us to navigate different types of market conditions without breaking down. Thanks.