EOD Update, 14 Jan 2010
Please see the image below. It's the 1 minute chart of SP500 futures, and it happened about 5-10 minutes after my previous mail, which was sent at 3294.25, and the futures tanked from 3294.75. Please see how 10 points were gone in just 2 minutes, and about 20 points were gone in 35-40 minutes. That's why I was saying that the market conditions can become volatile rapidly, and we have to be very cautious at current levels, and preserve the gains we have already made in Jan 2020.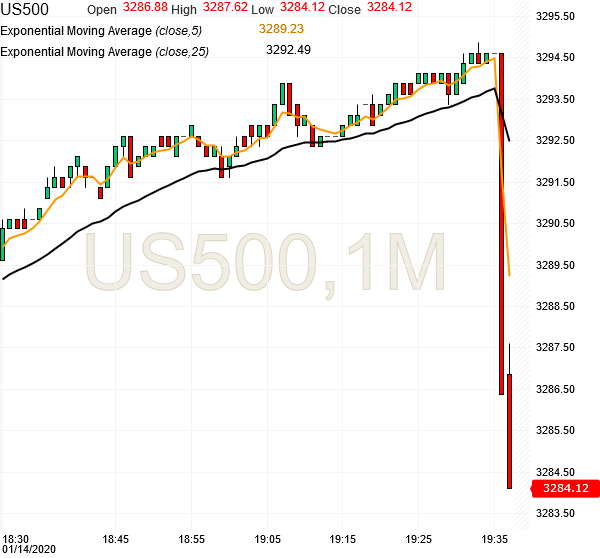 Could such a swift correction be anticipated and captured? Not really. Most traders and trading systems can't catch such swift corrections, and we are better off watching it from the sidelines, and waiting for a better trading opportunity.
As mentioned earlier, this market can get volatile rapidly in current conditions, because of the heavy built up of speculative Call Options on the SP500.
Please see the daily chart below, with CCI indicator plotted on it. The daily chart is showing weakening momentum, which means further price rise will face resistance.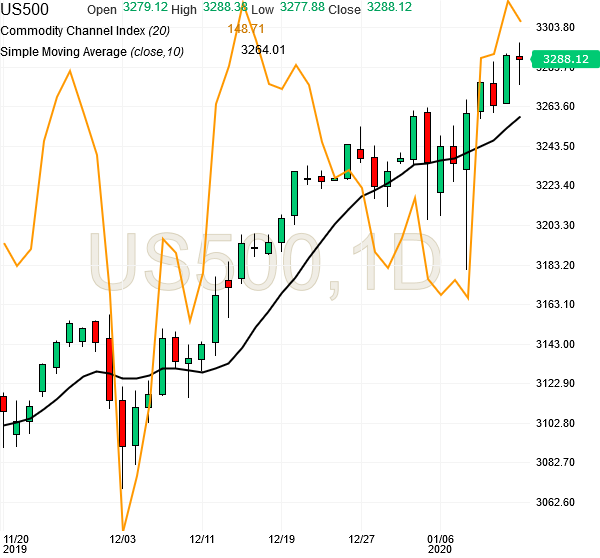 A positive outcome of today's correction is that it has revealed that the current support level is at 3270-3275. So any long trade will need this as Stop loss. A clear long trade may emerge above 3290-3295. We must be very selective and cautious in any new trades.
Our Emini Futures Trading Strategy is to wait for clarity in the daily charts, and take long trades after corrections, or above 3300, which will be a fresh breakout on the upside and it can give 20-30 points. Thanks.
[Bonus Trade]
Buy at 3300 for Target 3320 with Stop loss 3280.
——————————————————————
Hello Folks, the S&P500 futures are at 3294.25
Today's Range: 3275.50 – 3296.50
The futures are heading towards 3300, and 3320 is also possible, but the setup is not giving a clear trade. So are watching for a suitable setup for a long trade.
Please note that the current market is significantly overbought with the highest call option activity ever for SPY (the S&P500 ETF), so we have to be very careful here, because volatility can increase rapidly here, and even a 20-point stop loss will be gone within minutes. So we must wait and watch for a better quality setup. 3280 is a support as of now, in the near term, but it can't hold any bigger selling.
All our Optional Trades have also completed at 3280, and there is no new trade of any type as of now. I will share some more notes later today. Thanks.
Please Note: The latest daily chart indicates that we can get a quick correction of 30-40 points below 3275, and momentum is also turning down, which will make it difficult for reliable upside move. We have to wait and see how the futures navigate the 3300 level.